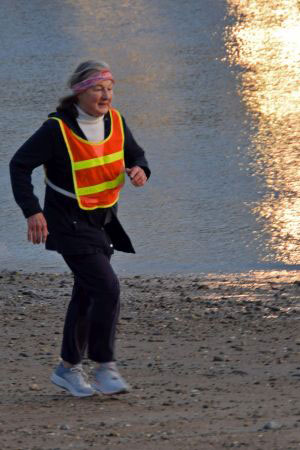 It rained on Marilyn's 80th birthday, so she didn't go running then. She went the next day - to prove that she can still do it after 45 years. She started running in Central Park when she lived in New York City; then she's run in Rowayton where she has lived for half of her life. Some people she doesn't even know have told her that they've seen her running a lot of times - from their kitchen window.
Connecticut, December 2020

The day after Thanksgiving is always the day that the Boy Scouts sell wreaths - across the street from the Rowayton Arts Center, on the opening day of Christmas/Holiday Gift Show. Marilyn always enjoys volunteering for a couple of hours at RAC then - and John visits the Boy Scouts stand and buys a wreath. Not long after we decorated it and put it up next to our front door, our first snow arrived and added a nice touch to our wreath.
Connecticut, December 2020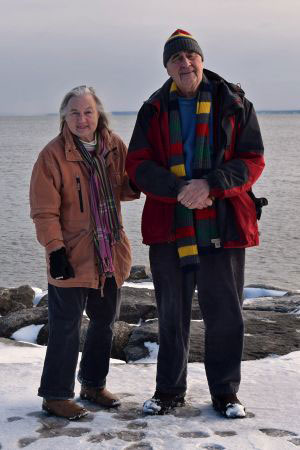 Every year for the past 30 years, we've been in the Rockies in Alberta for a few days before Christmas - and we've taken our Christmas photo at Lake Louise. Not this year though. The morning after our first, and only, snowfall this year, we went to Roton Point and took our photo in front of The Sound - not nearly as impressive - no snow-covered mountains and glaciers in the background.
Connecticut, December 2020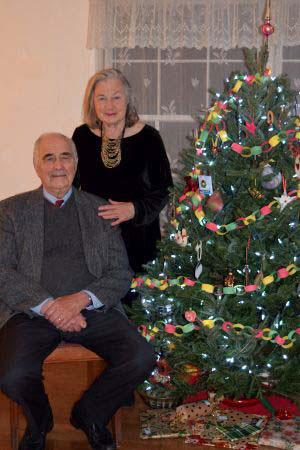 John bought a real Canadian spruce tree - then he bought 50 feet of lights and made 100 feet of paper chain. Marilyn unpacked some ornaments from the attic, and bought some new ones at RAC. Every Christmas Eve for the past 30 years, we've gone to mass in the town where Marilyn grew up, and then we had Christmas Dinner with her sister or one of her brothers and their families. This year we cooked and had Christmas Dinner with just the two of us.
Connecticut, December 2020
Our small group was able to meet outdoors four times this fall. From now though, we'll be zooming - unless we find a large enough space to meet in where the 13 of us can spread out. We are very grateful for these friends who are committed to praying for us, and for all our concerns about our families and friends.
Connecticut, November 2020

We've been driving around Rowayton every Sunday morning looking for things for Marilyn to photograph and then use on her note cards. It was fun seeing creative arrangements in people's yards, especially those which reminded us of bountiful harvests and Thanksgiving - and how we are so blessed here in this beautiful part of our country.
Connecticut, November 2020
During Thanksgiving Week, the lawn in front of
Noroton Presbyterian Church
was covered with grateful hearts. Ours is now in our front yard now - and we're wondering if any of our neighbors who walk by with their kids and dogs will stop to see some of what we are grateful for during this different time.
Connecticut, November 2020

We had turkey and all the trimmings for our Thanksgiving Dinner for just the two of us - and then we zoomed with John's daughter, while we, and she, had pumpkin pie, which John had baked for our desserts. John also baked pies for two of our friends who had given us their pumpkins since we forgot to buy one before Halloween and couldn't find one afterwards.
Connecticut, November 2020
We've enjoyed our Sunday morning breakfasts at Roton Point after church. Some hardy tennis players were there as well - but out on the breakwater, it's been just us - and some Canada geese - and the view of Long Island Sound.
Connecticut, October 2020

Our small group of twelve people met for the second time this fall - outdoors, and this time, spread out on the beach. We discussed the Book of Romans sermon that Sunday at Noroton Presbyterian Church - and their All-In Generosity Campaign going on this month.
Connecticut, October 2020
Members of
Noroton Presbyterian Church
gave of their time and talent on Service Day. The Green Team picked up trash at schools and the railway parking lots. Some people baked brownies and made soup for the home bound - and some wrote thank you letters to those serving in the Military.
Connecticut, October 2020

We thank God for this beautiful area where we live - with its many varieties of rees - and now with all the brilliant red, orange and gold leaves. Soon these trees will be bare - but come spring, they will be beautiful again - many with pink and white blossoms. We love the change of seasons which remind us of the different times in our lives - some happy and some not.
Connecticut,October 2020
We have really missed being in church Sunday mornings. Outdoor services on lawn, even when it was cold, were better than watching on TV in our den. And we have really missed seeing and hearing the choir sing. We would like to sing too - louder than we sing and hum along now behind our masks.
Connecticut, September 2020

We enjoyed a couple of Sunday afternoons out on The Sound, on the flat top boat at Roton Point. The freshly painted
Greens Ledge Lighthouse
is beautiful. We also had a couple of dinners in the grove and watched the sunset, as we used to do so often before we started spending every summer in Kenya.
Connecticut, September 2020
We have missed seeing friends at the free Friday night movies at the Darien Library, so it was good to spend some time one Sunday afternoon with some of them. We met on a friend's porch, and had drinks and snacks, and compared our experiences during this less than normal time.
Connecticut, September 2020

Our small group (or rather, our not so small group) met in Pinkney Park in Rowayton, along side of Five Mile River, late one Sunday afternoon. It was our first in-person gathering, with 10 out the 13 of us, together at one time in one place since early March.
Connecticut, September 2020
Connecticut has many beautiful and really tall trees, and in high winds their tops sway back and forth. An old one came down on Bell Island, and took down the power line, and then half of the residents in Rowayton had no electricity for a whole week.
Connecticut, August 2020

Marilyn attended a memorial service in a church garden for one of her bible study friends. Just 25 people were invited, and they all wore masks and sat six feet from each other. And three technicians coordinated the live and prerecorded and live streamed elements of this beautiful goodbye to a beautiful woman.
Connecticut, August 2020
The St. John Church parking lot was the setting for Fr. Hoffmann's farewell mass - only it wasn't his last one 'cause he isn't leaving quite yet. His new assignment as Vicar for Clergy in the Bridgeport Diocese has been pushed back a month. But his parishioners thanked him anyway now for his six years of service by donating to Make-A-Wish Foundation.
Connecticut, August 2020

We are in the last days of summer now, and we felt the urge to be out on water, so we went to Roton Point for ride on their Flat Top boat. The sun was warm and the breezes cool - and the view of the city skyline, 43 miles away, was incredible.
Connecticut, August 2020
When we learned that we couldn't go to Kenya, we thought about going to Alberta to spend some time in the mountains - but no, we can't do that either. So we celebrated Canada Day with maple syrup on French Toast. And we drink Kenyan tea, which we get from Texas, and enjoy mangos and paw paws from Trader Joe's, to help us feel a little bit connected to Kenya.
Connecticut, July 2020

It was great to be with seven members of the NPC (Noroton Presbyterian Church) Mission Team - our first time in a group since March 16. We met on the lawn, wore masks, and sat six feet from each other. And we got some important business done, even though it was a bit hard to hear and be heard above the traffic noise on the Post Road.
Connecticut, July 2020
These are the dog days of summer - the hot, lazy, hazy days, when everyone wants to be near the water where it is cooler. And it's even better if one can be on the water. We have a sailing dingy - a wooden one, which John built, and it's been just hanging in our garage for the past 15 summers. Aprilbe some afternoon we'll go for Flattop ride on the Roton Point boat.
Connecticut, July 2020

It's hydrangea season. These beautiful blossoms remind us of Finisterre, one of our favorite places in Spain that we visited last September. While on our walk on the Camino Trail, we saw lots of really huge hydrangeas. This year we were planning to go to Israel and Jordan on our way back from Kenya. Hopefully we'll do that next year.
Connecticut, July 2020
Marilyn enjoyed walks with friends, while wearing a mask and trying to keep six feet from them. She has also gone running three times each week, and she always stops at the beaches to take in the views of The Sound. And she likes seeing the young parents out on the streets with their children.
Connecticut, June 2020

John's daughter brought a special cupcake for him on Father's day - and they spent a couple of hours catching up on things, and remembering the good old days. They sat six feet from each other on our porch - and there was no love hug when she left.
Connecticut, June 2020
John is replacing the 50 year old screens on our back porch. He's doing it the modern way, which involves 40 pieces of channel, 200 screws, about a mile (actually 250 feet) of rubber spline that is rolled into grooves in the channels and 200 square feet of screen. It turns out not to be quite as easy as the YouTube demos.
Connecticut, June 2020

This is the first time we have seen our tiger lilies in full bloom since 2004, 'cause we've always been in Kenya in June. We thought we were the only ones with tiger lilies in our front yard, but while driving around Rowayton, we've seen a lot of them in neighbors' yards.
Connecticut, June 2020
Memorial Weekend was pretty quiet. Bailey Beach and Roton Point Club were open - with a lot of restrictions. Before we started going to Kenya every summer, John played the tuba in the New Canaan Band, and there was always a concert Sunday morning at one of the churches, and then the parade Monday morning. And there was the parade Sunday morning in Rowayton - and speeches at the cannon - and afterwards, strawberry shortcake in Pinkley Park. We have always enjoyed seeing the Tribute to our Vetrans from the National Mall in D.C. and we enjoyed it again this year even though it was virtual.
Connecticut, April 2020

The iris are blooming in our back yard, and it's the first time we've seen them since 2004, as we've always been away in Kenya at this time. Marilyn has trimmed back the pachysandra and ivy, thinned out Lilies of the Valley and Tiger Lilies - and pulled out a lot of weeds, which we've always just forgotten about when we were away in Kenya.
Connecticut, April 2020
John replaced rotten ends of floor boards on our 50 year old porch, and this is the first of a series of home improvement projects. Next he's going to paint the frames - and then replace all the screens, some of which have holes large enough for small birds to get thru.
Connecticut, April 2020

After two and a half months of not getting together with people, we had sandwiches and root beer from Brendan's 101 with a friend in her backyard on Five Mile River. As we were saying good-bye in her driveway, we really wanted to hug her - but no, we couldn't say thank you that way in this different season.
Connecticut, April 2020
A friend of John's daughter made fancy masks for us, which we wore when we went shopping for groceries at ShopRite and Trader Joe's - to get lime and fertilizer and plants at Home Depot, to go to WalMart for ink and to have photos printed at CVS so Marilyn could use them on birthday and anniversary cards for friends and family.
Connecticut, April 2020

John bought and then planed new railings so that they would fit into the old posts. Now, whenever we look at our fence, we think of how it represents the new normal (the present with the virus) and the old (the past before the virus).
Connecticut, April 2020
The speaker at the April 29 meeting of the Darien Men's Association was a retired naval officer talking (on Zoom) about submarine design, construction and operations in the 1960s. John was involved with the submarine program during that period so the talk brought back many memories of his experiences as a young engineer in what was arguably the nation's most important defense program of the era. Of particular interest was the speaker's description of the reactor on his first boat. It was the same design as the prototype that was built when John was a field engineer in Idaho in 1963 to 1965.
Connecticut, April 2020

Marilyn has spent a lot hours tidying up our yard, trimming back the ivy and pachysandra, thinning the tiger lilies, iris and lilies of the valley and encouraging the daffodils, jonquils and hyacinths to bloom at their best. She enjoys their beauty and their scent - both outside in our yard and inside our home.
Connecticut, April 2020
Spring arrived in Rowayton. The birds chirped - and we were happy to see robins and cardinals at our feeder in the back yard. And it was wonderful too, to see pink cherry blossoms, yellow forsythia, snowbells, crocus and daffodils in our yard and in our neighbors' yards.
Connecticut, March 2020

Marilyn's Photo Show - "Loving and Serving HIS Children in Kenya" - was at Brendan's 101 in Rowayton. But Brendan's closed before St. Patrick's Day - when we were looking forward to their Irish Soda Bread and Corned Beef and Cabbage dinner. You can now see Marilyn's Virtual Photo Show - just click
HERE.
Connecticut, March 2020
We went to Roton Point for breakfast Sunday mornings, before going to church in our den, where we watched both the service at NPC and the mass of St. John Church in Darien. Seeing the skyline of New York City reminded us of 9/11, since we had watched the second tower come down from this same place.
Connecticut, March 2020

We met with the new Mission Director at Noroton Presbyterian Church in Darien, when the church was still open. We are thankful for Elizabeth who is now coordinating the delivery of food to Open Door Shelter in Norwalk and Pivot Ministries in Bridgeport.
Connecticut, March 2020
Our young Kenyan friend Paul spent a week in Orlando at a Cru (formerly Campus Crusade) Conference. Then he spent a week with us in Connecticut where he met with the Mission Team at Noroton Presbyterian Church in Darien, as well other supporters of his and his wife's Life Ministry work in Kenya.
Connecticut, February 2020

We presented our "On Pilgrimage" talk and slide show at the PEP (People Encouraging People) gathering at NPC. Our introduction referenced Timothy Egan's book, "A Pilgrimage to Eternity". This is an interesting read, not only for the description of his walk (mostly) from Canturbury to Rome but also for his insights into church history and his own struggle with finding his faith. We had had almond cake several times while on our Camino adventure, and almond cake was served as the finale of our Valentine lunch.
Connecticut, February 2020
We had our annual Sunday Brunch for Rowayton neighbors and some friends who have moved on to other places. Everyone enjoyed catching up on what's been happening in their lives.
Connecticut, February 2020

We enjoyed hearing Cedar, a young Australian violinist, play Bach, Sonata No.2 for our brunch guests. She lived and studied in Rowayton for a couple of years, and now lives with her mother in New York City and attends the Manhattan School of Music.
Connecticut, February 2020
Marilyn's photo show, "Loving and Serving HIS Children in Kenya", opened at Brendan's 101 in Rowayton with a reception one Saturday evening. All 26 of the photos have stories displayed under them and everyone loved reading these.
Connecticut, February 2020

Sixty-seven women spent a weekend on retreat in the woods near Ivoryton. Guest Speaker, Susan Skillen, suggested that everyone slow down to let God catch up since "He is a three mile an hour God".
Connecticut, January 2020
There's a tradition at the NPC Women's Retreat of three women wearing a cross for a year, and then passing it on to three other women. One evening the three cross wearers gave their testimonies of how God had worked in their lives.
Connecticut, January 2020

We attended several gatherings with our Kenyan friend, Evalyn Wakhusama, who is the founder and director of
Nambale Magnet School.
She is very grateful for the bore hole that was drilled there recently, and for the gray water and bio-digester systems, all of which are being funded by Rotary Clubs in Connecticut.
Connecticut, January 2020
Sixteen people joined
Noroton Presbyterian Church,
and enjoyed a wonderful dinner with their new church family. The pastors and several elders spoke about the many programs at NPC, and urged the new members to pray about how they might contribute to the life of the church.
Connecticut, January 2020

PEP, which stands for People Encouraging People, had a wonderful Christmas lunch and carol sing in the Mission Room at Noroton Presbyterian Church. One of those present has sung in the choir for 40 years and will soon move to be near his daughter in California.
Connecticut, December 2019
Russ Brine, currently serving as a Maryknoll Lay Missioner in Cambodia, spoke at all the masses at
St. John Church
one weekend. It was funding raising time for the fees of the 50 students in the
St. John Bosco
program in Kenya who are sponsored by St. John Church.
Connecticut, November 2019

We went for a walk in the woods in Greenwich with some members of the
Darien Men's Association
. We were on the 100 acre property, which was originally the estate of Ernest Seton, and is now Montgomery Pinetum Park. Barbara Tuchman, Seaton's daughter, wrote her Pulitzer Prize winning book, "The Guns of August" while staying at the estate.
Connecticut, November 2019
Next year is the 400th anniversary of the arrival of the Aprilflower pilgrims. One of the original settlers, Constance Hopkins (played by her descendent), described life in the colony to the
Noroton Presbyterian Church
PEP group at their November lunch meeting. Constance will take part in many festivities in 2020, including riding on a float in the Rose Bowl Parade on New Year's Day in Pasadena, California.
Connecticut, November 2019

We were very impressed with Cedar-Rose Newman's performance at the
Music for Youth
Concert. She played beautifully from the repertoire that young violists are required to play in auditions for international competitions and college music schools. The program included major works by Bach, Mozart, Mendelssohn, Paganini, Franck and Syzmanowski
Connecticut, November 2019
Our Thanksgiving dinner was an international one, with a young Kenyan family, two Americans and Marilyn from Canada. In addition to the traditional American fare of turkey, stuffing and a multitude of vegetables, we enjoyed mukimo, pilau and chapatis - all Kenyan festive dishes prepared by our Kenyan friends.
Connecticut, November 2019
Amanda Craig
was the speaker at the half day retreat for women of
Noroton Presbyterian Church
and their guests. It was held at First Presbyterian Church in Greenwich. Amanda's topic was "Belonging" and she spoke of everyone's deep desire to belong - to feel loved by family and friends - and especially to know that each and every one of us is dearly loved by God.
Connecticut, October 2019

PEP, which stands for People Encouraging People, started off this new season in the Mission Room at NPC with a wonderful lunch. Old friends, some who have known each other since their school days, caught up on what's been happening in their lives.
Connecticut, October 2019
NPC's Service Day was a huge success with 200 adults and children participating. There were 15 projects - some took place inside the church and others were outside - at
Open Door Shelter
in Norwalk, at Waveny Care Center in New Canaan and in neighbors' homes and yards.
Connecticut, October 2019

Rev. Evalyn Wakhussama, the director of
The Nambale Magnet School
in Kenya, met with the Mission Team of NPC. It is the 10th anniversary of the school which opened with just 35 students in 2009, and now has 435 students in 13 classes.
Connecticut, October 2019
Three of our Kenya friends met at Brendan's 101 in Rowayton for lunch. They are from Meru where we have lived each summer for the past ten years. One has built a home for her mother in Meru, and the other is a cousin of the Catholic Bishop of the Meru Diocese. Her daughter has been accepted to study nursing at Southern Connecticut State University in New Haven.
Connecticut April 2019

The Mission Team at
Noroton Presbyterian Church
in Darien, Connecticut met with Bob Chedester, who is one of the missionaries that the church supports. He and his wife Jennifer have been at Rift Valley Academy in Kenya for the past 8 years, and they served in Uganda for 13 years before that. They and two of their five adopted children will return to Kenya in August, after spending a one year sabbatical at their home in Pennsylvania.
Connecticut April 2019
On Good Friday, we discovered
The St. John's Bible
at St. Luke's Church in Darien, Connecticut. It is the first illuminated, handwritten Bible in more than 500 years, and it is a truly beautiful work of sacred art. It was commissioned by Saint John's Abbey and University in Collegeville, Minnesota, where Marilyn's maternal grandmother married, and where her great grandparents are buried.
Connecticut April 2019

We enjoyed Easter Sunday dinner with John's daughter and a friend from Darien, and eight others from further away. They included a young family from West Haven with their two beautiful daughters and their grandma, a music teacher from Greenwich, another teacher from Nairobi, and a mother from Kansas, who home schools her daughter.
Connecticut April 2019